We are Gamushara Oendan

Our cheerleading style is a traditional Japanese way, and our aim is to cheer up the people of the world. We cheer at wedding parties, music festivals, sport festivals and so on. The Japanese traditional black uniforms that we wear are called
Gaku-ran.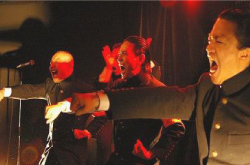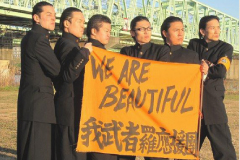 Gamushara Oendan was established by Takahiro Muto in 2007,and they are the first Oendan which is not associated with a school. We Gamushara Oendan want
to channel our energy and passion through Oendan. We feel that if we were to die tomorrow at least by executing Oendan we have used our energy in a good way. By doing this we are expressing our feelings and we feel that life is really worth living for.
We shout, applaud and put a lot of energy into our cheering so that ouraudience is encouraged by us, and they say they feel energized and we also get energy from our performances as we always do our best.
We want to assure you that until the day we meet again, We Gamushara Oendan are doing our best and enjoy what we are doing to the hilt. So please you also do your best and enjoy what you do from the bottom of your heart. The result is important but at the same time I want to share the process to reach our goals. We do not meet everyday but please keep in mind we are doing our best. We are going to be conscious of you. We would like to create a friendly rivalry with you and to challenge each other to achieve our goals.